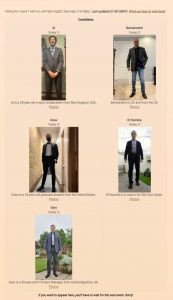 The biggest event of 2022 (so far!) has just begun. Vote-Off #4 starts today. We've lined up FIVE volunteers and you can vote off ALL their clothes. Each round lasts 24 hours and the volunteer with the most votes at the end of the round has to remove an article of clothing.
This event doesn't end until four of these 5 volunteers are stripped completely naked for all to see!
Get involved and don't miss out on the fun. Who do you want to end up naked?
Find out more here.